There are 3 reasons why Toaks Titanium pots are a good investment. Firstly, titanium, as a material, is better suited for cooking than aluminum. Secondly, Toaks Titanium products are dishwasher-friendly. Also, they have a pretty solid build. But there are other things to look for. Read this article for more.
TOAKS is a company based in Thousand Oaks, California that produces high-quality titanium outdoor cookware equipment. The brand designs and manufactures the equipment from start to finish, ensuring a natural experience.
TOAKS claims to manufacture its products with premium titanium under strict production standards to make sure that you get the best there is!
At TOAKS, you will find pots, tent stakes, cutlery, among other products. Additionally, you will also find highly sophisticated compact stoves for outdoor gear. All the products manufactured at TOAKS are done in order to serve every hiker's needs.
ALSO READ: Titanium vs. Ceramic cookware – which is better?
TOAKS Products
Here are some of the different titanium cookware products sold at TOAKS.
Cups and Pots
The TOAKS Cups and Pots are made to fit all your needs. Each product has a unique combination of size, shape, weight, and fuel efficiency. Some of their famous Cups and Pots that fall under this category are:
TOAKS LIGHT Titanium 550ml Pot (Ultralight) – $33.95
TOAKS LIGHT Titanium 550ml Pot (without Handle) – $31.95
TOAKS Titanium 1100ml Pot (with Bail Handle) – $54.95
TOAKS Titanium 1100ml Pot (with Pan) – $54.95
TOAKS Titanium 2000ml Pot (with Bail Handle) – $74.95
Stoves
All TOAKS stoves are built to efficiently burn wood and alcohol. These come in a compact design and are pretty lightweight. Here are some types of famous TOAKS Stoves:
TOAKS Titanium Backpacking Wood Burning Stove – $64.95
TOAKS Titanium Siphon Alcohol Stove – $39.95
TOAKS Ultralight Titanium Solid Fuel Cook System – $58
TOAKS Titanium Wood Stove Cross Bars (Pack of 2) – $2.95
TOAKS Stove Frame – $2.95
Cutlery
The TOAKS cutlery is made to fulfill every hiker's needs. The unique finishes and shapes of the cutlery are aimed at improving the user experience. Some of the unique TOAKS cutlery include:
TOAKS Titanium Spork (Spoon + Fork) – $8.95
TOAKS Titanium 3-piece Cutlery Set – $19.95
TOAKS Ultralight Titanium Spoon – $8.95
TOAKS Titanium Folding Spoon – $10.95
TOAKS Titanium Folding Knife – $10.95
ALSO READ: These Wicked Edge Knife Sharpeners are crazy good!
Combos
TOAKS Combos include sets of different products that go together. Some of the popular TOAKS combos are:
TOAKS Ultralight Titanium Solid Fuel Cook System – $58
TOAKS Titanium 1600ml Pot and Wood Stove Combo Set – $123
TOAKS Titanium 750ml Pot with Bail Handle and Wood Stove Combo Set – $83
TOAKS Titanium Alcohol Stove and 900ml Pot Cook System – $109
TOAKS Titanium Wine Flask and Shot Glass Combo Set – $84.95
Now, let's talk about whether the TOAKS Titanium Pots are worth your money.
TOAKS Titanium Pot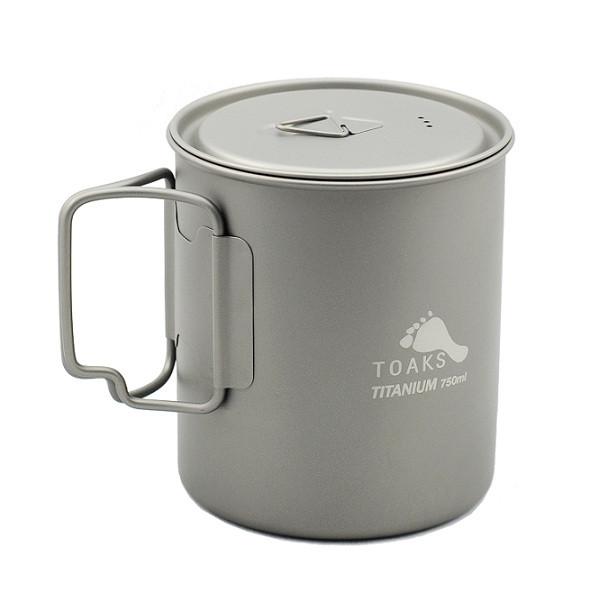 The material used: Titanium
Sizes available: 550ml, 650ml, 750ml, 900ml, 1100ml, 1600ml
Weight of the pot: 3.6oz
Measuring lines: Present inside the pot
Owing to its good build and quality, the TOAKS Titanium Pot in the 750ml variant is a bestseller on Amazon. The lightweight and sleek design of the titanium pot makes it easier for backpackers looking for a single pot to do it all.
Additionally, the TOAKS Titanium Pot is quite competitively priced. This makes it a favorite among many backpackers!
The foldaway handles and the lid in the pot make using it easier without adding any unnecessary weight to it. The titanium pot can easily fit in a 110g fuel canister and a stove. It is designed for minimal activity and is well-suited for all lightweight backpackers and hikers.
If you need more volume, check out the bigger-sized titanium pots. These come with a handle too, which makes using them much easier!
Additionally, the TOAKS Titanium Pot in the 750ml variant easily doubles as a mug and a pot, which eliminates the need to carry multiple items. With many other brands, you may come across pots that can be difficult to use as a mug because of stability issues. And similarly, some mugs cannot be used as a pot. This is where the TOAKS Titanium Pot will help you as it can be used as both a mug and a pot!
The 750ml can fit in a canister as well. This variant of the TOAKS Titanium Pot is perfect for solo travelers and trekkers. Or, if you are with a group, it can work well if everyone cooks their own meal!
ALSO READ: Is Carote Cookware Really Safe?
The shape of the 750ml TOAKS Titanium Pot is another factor that makes it the perfect choice for lightweight backpackers. It is compact, serves its purpose well, and can handle getting banged around in your backpack!
While the TOAKS Titanium Pot in the 750ml variant has all these excellent features, there are a few drawbacks too. You should know that titanium tends to become spotty when exposed to heat. Due to this, you may notice the appearance of the titanium pot to wear out with use.
Another major drawback is that Titanium transfers heat more rapidly than other materials used for cookware, which means that you will have to keep an eye out on your food while being cooked. The best way to make the most of your TOAKS Titanium Pot would be to use it primarily for boiling water. And even if you do use it for cooking food, you can do so by keeping the temperature low.
Now lastly, here are a few frequently asked questions about the brand TOAKS and its Titanium Pots.
1. Is TOAKS pure Titanium?
The TOAKS Titanium products are made with pure ultralight Titanium. This helps eliminate the metallic aftertaste and keep corrosion at bay.
2. Where is TOAKS Titanium made?
TOAKS is a company that manufactures Titanium cookware for adventurers and hikers. It is located in Thousand Oaks, California.
3. In what sizes are TOAKS Pots available?
The TOAKS Titanium Pots come in a wide variety of sizes, which are:
550ml
650ml
700ml
750ml
1100ml
1300ml
1350ml
1600ml
4. Are TOAKS Products dishwashers safe?
TOAKS Products are free of RSL or BPA materials and are dishwasher safe.
5. Are TOAKS Products environment-friendly?
Established in 2011, TOAKS products have been developed, keeping the idea of environmental friendliness as a topmost priority. Considering the no-sewage waste in production, a high-efficiency stove design, and no plastic packaging, it is safe to say that all TOAKS products are environment-friendly.
6. Is Titanium cutlery better than stainless steel?
As an element, Titanium is 45 percent lighter than steel. It is also more robust when compared with aluminum. Additionally, Titanium is the most lightweight cookware material, has an excellent resistibility to corrosion, and offers great durability.
7. How do you clean a titanium spoon?
One of the drawbacks of titanium cookware is that it is not non-stick. Because of this, you need to be careful while cleaning a titanium product, say a spoon.
To clean a badly burnt titanium spoon, you need to put it in boiling water in a pan or pot. This will allow the burnt area on the titanium spoon to soften up. Once the burnt area has softened up, you can use a dishwasher or soap to clean the titanium spoon.
8. How can you get stains out of titanium cookware?
The easiest way to get stains out of titanium cookware is by putting the cookware in a pan of boiling water. Then, add a small amount of mild dishwashing soap into the pan of water. You can use an ammonia cleanser as well. Finally, scrub the titanium cookware with a washing sponge to get rid of the stains.
However, make sure that you do not use a harsh dishwashing cleanser like bleach or chlorine, as these can damage the titanium cookware more.
9. Can you cook food in TOAKS Titanium products?
Yes, TOAKS Titanium products are safe for cooking food. However, since titanium products transfer heat more rapidly than other substances, make sure that you keep a low temperature while cooking food.
10. Can the TOAKS Titanium Pot be used directly over a fire while cooking?
Yes, TOAKS Titanium Pot can be used directly over fire while cooking. However, keep the flame low as titanium products can wear out their luster with excessive use. You may even start to notice patches caused by heat on the titanium pot if used excessively for cooking over a high flame.
11. Is Titanium cookware better than aluminum cookware for cooking food?
Titanium has specific properties that make it better than aluminum when it comes to cooking. These include:
It's stronger than aluminum
It has strong resistance to corrosion
More durable
It is lightweight to use
12. Can the TOAKS Titanium Cups be used for cooking food?
No, the TOAKS Titanium Cups are not meant for cooking food as these are not double-walled cups. However, you can use the titanium cups to boil water.
13. Is it safe to drink water boiled in a titanium product?
Yes, it is entirely safe to drink water boiled in a titanium product as Titanium does not react to human fluids.
14. Will food stick in TOAKS Titanium cookware?
Since TOAKS Titanium products are manufactured with premium titanium, they are considered safe to cook food. Premium titanium is non-toxic, inert, does not affect the taste of the food cooked in them, and does not make the food stick to the cookware.
Reference:
Latest posts by Anand Srinivasan
(see all)