Mezlan is a men's luxury shoe brand known for its premium Italian leather and exotic skin footwear.
Mezlan shoes size chart
Mezlan shoes are sold internationally and you can find the right size for you from the chart below. In case you are looking for metric units, you may refer to the JP system below since all measurements here are in centimeters.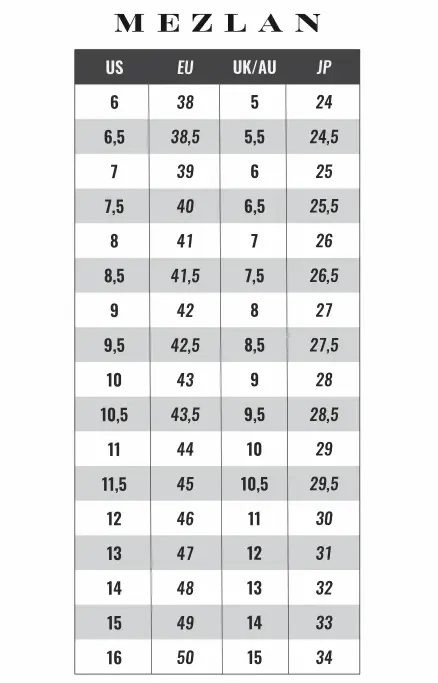 Do Mezlan shoes run big?
Yes, Mezlan shoes do run a little big. As per the general consensus among buyers, Mezlan shoes run about 1/4 size large. A customer wrote that despite being size 11 for most of the shoes, sized 11 in Mezlan was too big for him
Others found the fit to be a bit off for their feet but it's not the same for all the shoes. The higher sizes run a little big whereas some of the other shoes Mezlan makes are cut true to size. It's a good idea to try them on first before buying.
Do Mezlan shoes run narrow?
Yes, they do run a bit narrow so as per the general consensus of reviews. It is advised to try Mezlan shoes first before buying them. They do promise quality but have certain size issues that can be best resolved when wearing them for yourself before purchasing.
How do Mezlan shoes fit?
Mezlan shoes run narrow as well as run a little big. It is obvious that sizing from person to person can be uncertain. Another pointer to note is that Mezlan shoes do not always provide a smooth fitting.
There could be a difference between Mezlan shoes produced in Spain as compared to those produced in Mexico. Production in Spain is more reliable and generally provides a better fitting. Buyers are advised to read about the production location before ordering Mezlan shoes online.
Are Mezlan shoes Goodyear welted?
The Goodyear method, invented by Charles Goodyear Jr, is an infamous method of constructing shoes. One of the most apparent features of Goodyear welted shoes is that the sole part of shoes can be replaced without damaging the upper stitched part or the rest of the shoe.
When we talk about Mezlan shoes, they are certainly hand-stitched but are not Goodyear welted. They instead use the Blake method to construct their shoes.
The Blake method includes attaching the upper leather part of the shoe to the sole. This is unlike the Goodyear welted shoes where the upper part and the sole are detached. This way, shoes made with the Blake method look more sleek and high fashion. They help in improving the image and design of "dress shoes for men".
The Blake method also gives off the typical sleek-looking Italian style while Goodyear welted shoes are mostly on the bulkier side. In Mezlan shoes constructed through the Blake method, the sole is thinner and smoothly finished unlike shoes built using Goodyear welted shoes.
The Blake method also allows for more flexibility to the sole. They make them lighter and more comfortable as compared to Goodyear welts.
In the Blake method, special machines are used to stitch the upper part of the shoe to a finer leather sole which means that the sole is not attached by hand. Machine stitch is neat and special machines are used for this purpose.
Is Mezlan a good shoe brand?
Is Mezlan the right brand for you? This question can have different answers depending on the consumer's individual preferences.
In general, though, Mezlan shoes are worth the money and are definitely a good brand to buy. Size issues are surely present but buying a size down can easily help while purchasing online.
Mezlan shoes are truly premium, and carry off a unique Italian style. They are also sleek, cleanly stitched, and not bulky at all.
They make the perfect dress shoes for men with rich taste.
Reference:
Latest posts by Anand Srinivasan
(see all)