Tap dancing is a unique form of dancing – the rhythmic tapping, and the interpretive body movements make it stand out from other forms of dancing.
While learning the body movement and the method of striking your heel and sole to the floor is half the equation, finding the perfect tap shoes is the other half. While in the initial days, tap dancing shoes had wooden soles, which caused a lot of discomforts and produced mainly dull sounds, they have improved over the years.
Bloch stands as an industry leader in this regard. With over 85 years of experience in making various types of dancing shoes, Bloch has used their knowledge and know-how to make some of the best tap dancing shoes.
Comfort
Founded on the principle to create the most comfortable shoes in the world, Bloch has managed to fulfill their promise even today. The soles of their shoes are usually made of soft leather, although synthetic and synthetic-leather hybrid versions are also available.
The inside of the shoes is made with soft lining material like microfiber or Cashmere to provide comfort and reduce moisture over long continuous use. Most shoes have little to no seams inside the lining. This is to minimize the rubbing. The insoles of the shoes are cushioned for comfort and shock absorption, while also being rigid enough to provide support.
Taps
We cannot talk about tap shoes without talking about the taps. Bloch manufactures high-quality steel composite alloy to deliver a distinct, rich sound each time you tap. They carry different types of taps as listed below
Bloch's Techno Taps – They are the best starter taps with grips attached. This provides for a more stable and sturdy use. They do not make a loud sound which makes them perfect for practice or for small performances.
Bloch's Shockwave Taps – These taps produce a louder sound than the techno taps, but they tend to be more slippery. These taps are perfect for stage performances.
Bloch's Mega Taps – These shoes give you a fantastic audio experience. Bloch has designd this in partnership with tap dance band, Chloé and Maud Arnold,
Jason Samuels Smith Toe Taps – These shoes produce great tap sound thanks to the specially engineered tap plate that makes maximum contat with the floor. This shoe also has a steel resonance plate buffering between the tap plate and the leather outsole. This shoe was designer in partnership with Emmy Award winning choreographer, Jason Samuels Smith.
ALSO READ: Where can I buy Karhu shoes in the UK
Build Quality
Each shoe is designed with the end-user in mind, be it children or adults. A pro balance, non-slip rubber pad has been attached under the ball of the foot to ensure that you can dance to your hearts' content without a fear of falling down.
The heels are stacked with hard leather to provide durability. This heel stack forms a counter that helps with stability. Some shoes also come with a notched collar towards the heel that helps with reducing the pressure on the Achilles tendon.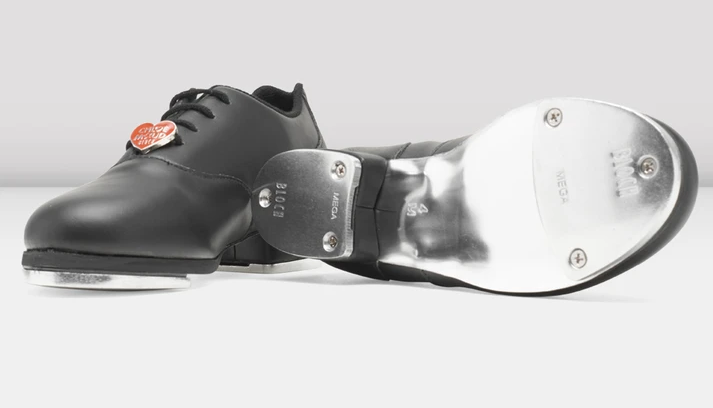 Maintenance
Over a period of repetitive use, the taps tend to get a bit damaged. This isn't a big problem as the taps can be easily replaced. The toe and heel tap can be bought separately. The old taps can be removed by unscrewing the three screws at the bottom. Each tap replacement comes with its own set of screws and fiberboard. The fiberboard acts as a cushion between the tap and the leather. So, you sandwich the fiberboard between the leather and the tap and then screw it all into place.
Conclusion
With its superior comfort, well-designed taps, ergonomic construction, and easy maintenance, Bloch tap shoes are a perfect well-rounded pair of shoes. They are accessible to both beginners and professionals. So to answer a simple question
Are Bloch tap shoes good? The answer is pretty obvious.
Reference:
Latest posts by Anand Srinivasan
(see all)