Yes, Bentgo lunch boxes are absolutely worth it. Although they are a little pricier than other products in the market, these are top-quality products that come with quite trendy designs. And for these reasons, they are good value. Read this review for more information.
Bentgo is a company based in Santa Ana, the USA that sells premium quality lunch boxes. The lunch boxes come in a variety of vibrant colors, fun prints, and beautiful patterns. At Bentgo, there is a lunch box for everyone in your family!
Apart from the lunch boxes, Bentgo also sells lunch bags, dipping containers, ice packs, to-go cups, among many other things!
Let's have a look at the different product categories offered by Bentgo.
What Are The Different Products Sold By Bentgo?
Lunch Boxes
The bento-style lunch boxes for both children and adults are designed to carry healthy meals on the go. Bentgo has a wide variety of lunchboxes in different shapes, colors, and sizes. Some of the best-selling lunch boxes from Bentgo are:
Bentgo Kids Prints Lunch Boxes
The Bentgo Kids Prints Lunch Boxes come in bold, fun patterns. They have five compartments, with enough place for fruits, veggies, chocolates, chips, and a dip.
Price: $27.99
Bentgo Classic Lunch Boxes
Developed with a unique bento design, these classic lunch boxes come with two stackable containers. The best part about these lunch boxes is the secure strap that eliminates the need to carry a brown bag.
Price: $14.99
Bentgo Chill Lunch Boxes
The Chill Lunch Boxes are the perfect option to keep your child's lunch cool for a longer time. The lunch box has a bento-style compartment tray where you can keep the ice pack. The unique leakproof designs will ensure that the ice does not melt into the food!
Price: $29.99
Glass Containers
Glass containers are similar to those of lunch boxes, except that you get a clear glass container to keep the food. These come in different glass compartments too. Some of the popular Bentgo Glass Containers are:
Bentgo Glass Lunch Container
This first-of-its-kind glass lunch box container provides a healthy alternative to plastic containers. The containers are divided into compartments that are useful for storing veggies, fruits, and other food items without mixing them together.
Price: $19.99
Bentgo Glass Leak-Proof Salad Container
These glass salad containers make it easy for you to eat healthy food on the go. The glass container comes with a unique leak-proof stackable lid where you can store both your meal and salads!
Price: $24.99
ALSO READ: Are Rubbermaid containers airtight?
Bowls
Bentgo Bowls let you take cereals, soups, and other bowl-based meals on the go. These bowls are designed to ensure there is no leakage.
Bentgo Bowl
The all-in-one Bentgo Bowl is perfect for carrying bowl-based meals such as stew, soup, noodles, rice, cereal, and a lot more. The bowl also comes with a retractable spoon and fork compartment. This eliminates the need to carry additional items.
Price: $14.99
Cups
Bentgo Cups, perfect to transport juices, soups, and other liquids, are developed with a unique leak-proof design. These cups can be placed in the freezer as well as the microwave.
Bentgo Cup
The uniquely designed Bentgo Cup is a great alternative to carrying a juice box or bottle for liquids. These are BPA-free and reusable, which makes the cups more environment-friendly and cost-friendly.
Price: $7.99
Sauce Containers
Developed with a leak-resistant design, Bentgo Sauce Containers are cups used for carrying sauces or other sides. The containers can easily fit into the lunch boxes as well.
Bentgo Sauce Dippers
Bentgo Sauce Dippers come in a set of two in different color variants. These are compact and convenient to use. You can carry sauces, condiments, and garnishes separately in the sauce dippers to make sure they do not mix with your meals in the lunch box.
Price: $5.99
Ice Packs
The ice packs from Bentgo are made to keep the meals in the lunch boxes cool on the go. These ice packs are BPA-free and keep the food fresh and cold for a long time.
Bentgo Chillers Ice Packs
The slim Bentgo Chillers Ice Packs come in a pack of four. The ice packs are slim and freeze quickly. They take up very little space in your lunch box as well.
Price: $9.99
Trays and Covers
Bentgo Trays and Covers are a great alternative to carrying around multiple lunch boxes. These trays and covers make your meal prepping process easier.
Bentgo Kids Reusable Tray Covers
These reusable tray covers come with locking clips and a snug design that fit perfectly with the lunch boxes. Bentgo Kids Reusable Tray Covers also offer a sleek storage option for when you pack lunches in advance. Additionally, the transparent tray covers let you see what is inside the lunch box without having to open it up!
Price: $6.99
Utensils
Bentgo offers a wide range of utensils such as forks, spoons, knives, and carrying cases. The utensils make having a meal easier, convenient, and much safer.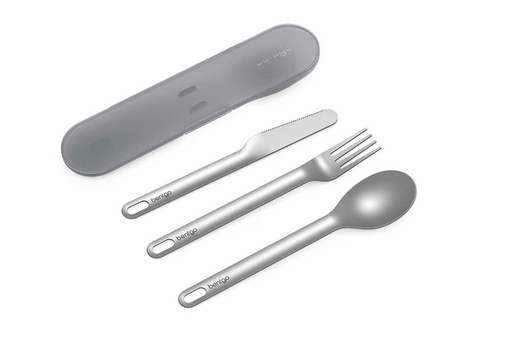 Bentgo Stainless Travel Utensil Set
This multipurpose stainless travel utensil set consists of an adult-sized fork, spoon, knife, and a carrying case. High-quality stainless steel has been used for the manufacture of these utensils. The carrying case perfectly encases the fork, spoon, and knife without these rattling inside your lunch box.
Price: $14.99
Backpacks and Lunch Bags
Bentgo easy-to-carry lunch bags and backpacks are perfect for carrying meals on the go. These come in multiple designs, colors, and styles for all needs of your family members.
Bentgo Deluxe Lunch Bag
This lightweight lunch bag makes carrying your healthy meals easier. A padded ergonomic handle, an adjustable shoulder strap, and water-resistant fabric add to the ease of carrying the lunch boxes. These Bentgo Deluxe Lunch Bags come in multiple internal and external pockets for keeping napkins, ice packs, and utensils.
Price: $24.99
Now, let's have a look at whether the Bentgo Lunch Boxes are worth your money or not!
Bentgo Lunch Boxes
Bentgo Lunch Boxes that come in different sizes, styles, and colors, are perfect for both children and adults. They are leakproof and built of premium quality.
What Are Some Good Things About Bentgo Lunch Boxes
The lunch box design is leak-proof
The lunch boxes are manufactured with BPA-free plastic and hence, they are eco-friendly
The glass variant lunch boxes and containers are of premium quality
Cleaning the lunch boxes is extremely easy and convenient
What Are Some Things We Don't Like About Bentgo Lunch Boxes
The lunch boxes may seem slightly heavier than other models available in the market
The exterior of the lunch box may get scratches easily if not taken care
Here is an in-depth review of the Bentgo Lunch Boxes based on the design, material, price, cleaning process, and competition.
Design
The Bentgo Lunch Boxes are developed in a bento-style design. They come in different colors and one or more compartment trays (depending on the type of lunch box you purchase). The compartment allows you to add a variety of food items to your meals.
The Bentgo Kids Prints Lunch Boxes come in five compartments, one large enough to keep a sandwich, three medium-sized compartments to keep fruits, veggies, or snacks, and one small compartment that is perfect to keep sauces or garnishes. The Bentgo Classic Lunch Boxes are ideal for adults and come in two big compartments.
Once the lunch box is closed with the help of two snaps on its front, the rubber seal makes sure that there is no leakage, either between the compartments or out of the lunch box itself. In addition to the snaps, the lunch box also has rubber edges that will protect it in case it falls on the ground!
However, while ordering Bentgo Lunch Boxes, keep in mind that these extra features for design and safety make the lunch boxes thicker and heavier than other models available in the market.
Material
Bentgo Lunch Boxes are made of premium plastic which is free of BPA, lead, vinyl, and polyvinyl chloride plastic (PVC). The plastic used for the manufacture is FDA approved and safe to be used in lunch boxes and its compartment trays. In other words, it is safe to say that any sort of toxins will not be reaching your meals packed in BEntgo Lunch Boxes!
In addition, both the lunch box and compartment tray are safe to put in the freezer. The compartment tray can also be kept in the microwave to heat food as well. However, the manufacturer recommends that you do not heat the compartment tray for more than 3 minutes. Keep in mind that the lunch box is not microwave-friendly, only the compartment tray is.
With consistent use of the lunch boxes, you may notice the shine of the plastic on the exterior to lose its shine a bit. You may also notice a few scratches on the outside of the lunch box.
Cleaning process
Since the compartment tray can be easily removed, it is very convenient and easy to clean the Bentgo Lunch Boxes. To wash it, you can use soap and lukewarm water to rinse it off. Bentgo recommends letting the lunch box air dry after washing. This gentle method of cleaning will also help preserve the leak-resistant seal of the lunch boxes.
Price
The prices of the Bentgo Lunch Boxes start at $27.99 and go up to $47.99. To order online, you can either check out Bentgo's official website or Amazon. If you want to physically visit a store and check out the quality before making a purchase, you can visit Target.
Although you can easily get a decent lunch box for less than what Bentgo has, they may not be that durable and well-designed. Bentgo's Lunch Boxes are well-designed with premium quality materials and are durable. You get more than what you pay for at Bentgo. Additionally, Bentgo also offers a two-year warranty which increases the value of the lunch boxes.
On a positive note, Bentgo donates a part of its profits to a non-profit organization that is working towards ending child hunger.
Alternatives To Bentgo Lunch Boxes
There are quite a few brands that are Bentgo's competitors. Let's see what they have to offer.
Yumbox Original Leakproof Bento Lunch Box
Yumbox's Leakproof Bento Lunch Box retails for $30. While these lunch boxes are leakproof too, their downside is that the lunch boxes are lighter than Bentgo's. In addition, Yumbox's lunch boxes show wear and tear much more easily.
Kishno Bento Lunch Box
The Kishno Bento Lunch Box comes in different shapes and sizes that are ideal for both adults and children. The lunch box has a silicone seal to keep the food from leaking and double-paned walls that ensure the food stays insulated. This two-part lunch box also has a spork (spoon and fork) compartment to eliminate the need of carrying utensils separately.
The price of Kishno Bento Lunch Boxes starts at $26, which is quite comparable to that of Bentgo's. Kishno's spork compartment definitely adds convenience to carrying healthy meals on the go!
Uptrust Bento Lunch Container
Manufactured with organic wheat fiber straw, Uptrust Bento Lunch Container comes with three compartments and a built-in fork and spoon. In addition, these lunch boxes are FDA-approved as well. The prices lie between $12 and $16, which is comparably cheaper than Bentgo's Lunch Boxes.
Uptrust Bento Lunch Container can be a great alternative if you are looking for a decent lunch box but on a budget.
Final Verdict – Are Bentgo Lunch Boxes really worth your money?
Considering the material, design, cleaning process, and convenience, it is safe to say that Bentgo Lunch Boxes are some of the best in the market. While the price may be slightly higher than other brands in the market, the quality and build of Bentgo make up for it. These lunch boxes come in different styles and designs to cater to the needs of both adults and children. Additionally, these are available in vibrant colors, quirky prints, and fun shapes too.
In addition, you also get a two-year warranty with Bentgo Lunch Boxes which makes it convenient for you to replace your lunch box in case you receive a faulty one.
However, if you are on a tight budget and would like to buy multiple pieces at once, you can check out other brands too. But don't forget to check the quality and material used in these lunch boxes.
References:
Latest posts by Anand Srinivasan
(see all)